The 2015 Royal Mint re-brand moved away from a limited palette of gold, black and silver into an array of colours along with a cleaner sans-serif font and stripped-back layout. As part of a the softer consumer facing identity I created email templates that could be easily populated with content in a modular format. The content structure was that of copy relating to the product theme a striking image followed by a block for individual or multi-product information and banners to link to relevant products.

Showcasing the opulence of the products but still remaining commercial was a key driver in the sales material.  I directed the photography which aimed to highlight the quality and craftsmanship that goes into making the coins. Two versions of a low to mid value product showcase were required to directly market to The Royal Mint's key customer base and for acquisition of new customers. A total run of 800,000 meant the product catalogue should be easy to produce and made use of a graphic device of colour blocks and images of the 7 decades of The Queen's reign.

It was noted some people may not be as pro-royal such as readers for the newspaper it was being placed in. It was decided to take an approach where the stories of The Queen's decades related to the progress of modern Britain over the past 70 years. The Royal Mint website had the most visits ever and generated the highest sales record in it's history the day the mailer dropped.


The longest reigning monarch product range was expected to bring in the highest revenue of all The Royal Mint's releases for 2015 and exceeding initial sales targets. The media campaign consisted of various ad sizes across 22 publications. A layout was designed that could be utilised across a number of formats maintaining consistency whilst adapting to products at various price points from the Brilliant Uncirculated version (£13) up to the flagship gold 5oz (£6,950)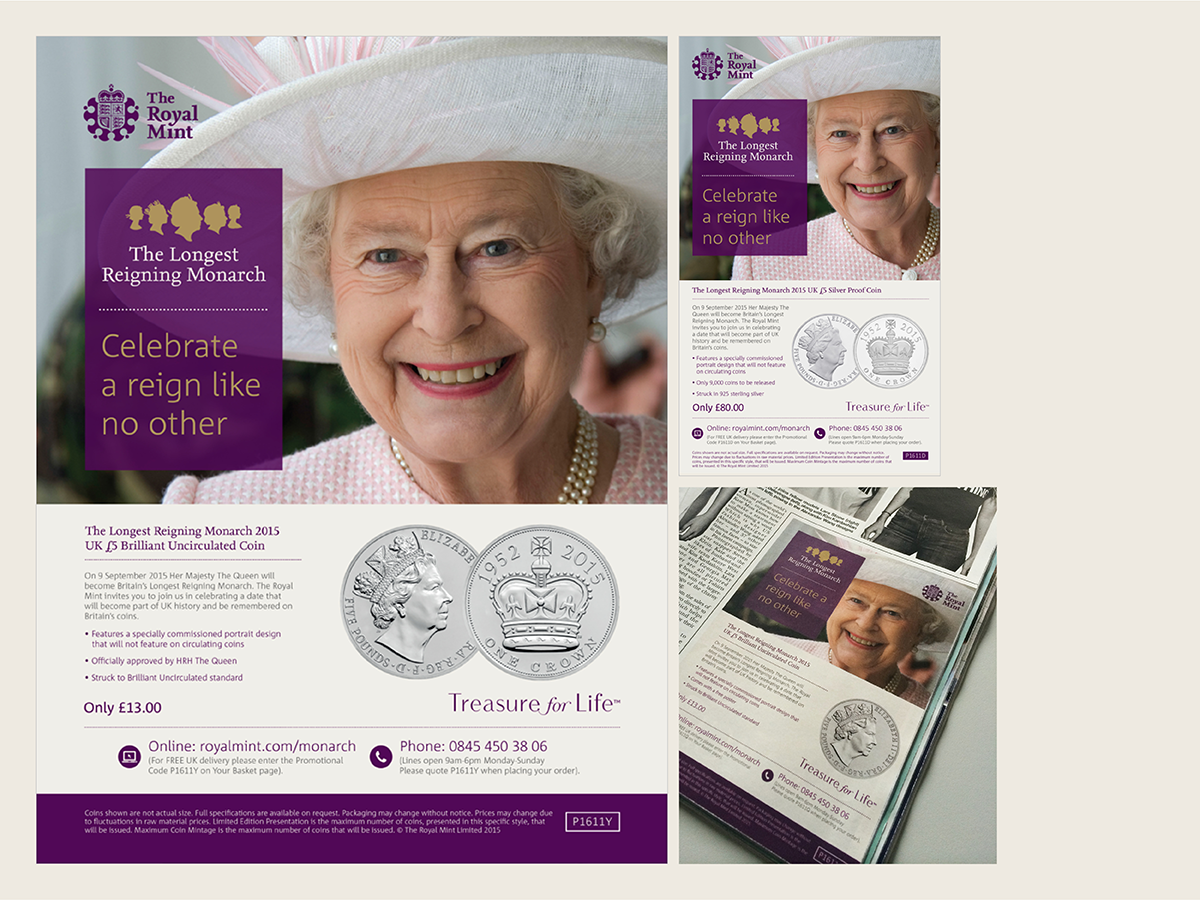 As part of a media pack, an infographic to be used on The Royal Mint blog and in press publications was created to put The Queen's reign in context of coinage. The first infographic was to show the commemorative coins produced across The Queens reign an a clear, easy to navigate format. Another info-graphic detailing statistics and facts relating to circulating coinage of her reign was posted on the Royal Mint blog and featured in editorial publications to help tell the story of the product in the press pack.